Serengeti National Park is a unique place where legend meets reality, the subject of numerous nature documentaries, and is the oldest and largest park in Tanzania, covering an area of 14,763 square kilometres, so much so that its name, of Masai origin – Siringet, means "Plain without borders".
Serengeti was declared a National Park in 1940, a UNESCO World Heritage Site in 1981, and is also an International Biosphere Reserve.
Its extraordinary peculiarity lies in it being the scene of the most impressive migration on Earth, which sees the annual displacement of several million herbivores, mostly wildebeest (2 million) and zebra (300,000).
The southern part of the park is covered by a series of vast plains, where the animals migrating between December and March converge to give birth to about half a million newborns. The concentration of such a large number of animals is largely due to the presence of pasture containing minerals such as calcium, potassium and sodium carbonate gotten from the volcanic soil, and which are very useful during lactation. The plains are nonetheless attractive and rich in wildlife all year round, regardless of migration.
The fauna of Serengeti National Park
At the height of the breeding season, the plains of the Serengeti Park in Tanzania are inhabited by about one and a half million herbivores, especially wildebeests and zebras, eland antelopes, and Thompson's and Grant's gazelles, followed by huge numbers of  large predators that can especially be seen at dawn and at night.
Lions are the most prevalent predators in this area, with a population that has been increasing considerably since the sixties, currently counting almost 2500 specimens divided in families of 20 to 25 units. Cheetahs, which prefer wide open spaces to explore their speed potential during hunts, are also abundant in Serengeti Park. In addition, you can find leopards, hyenas, jackals and scavenger birds such as vultures, while lyacons on the other hand are almost extinct.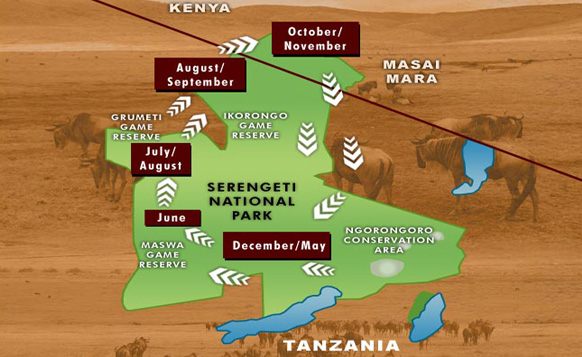 The grasslands are occasionally interrupted by bizarre granite formations, huge boulders that broke free from volcanoes millions of years ago, later fashioned by wind and rain, called kopjes. On some of these formations are rock paintings depicting white, red and black shields of a certain Masai ancestry, a tribe that once lived in these lands up until several years ago when the government kicked them out, making the Ngorongoro Conservation Area a protected territory.
The kopjes, in whose crevices often form small pools of rainwater, attract many insects and small animals, and even large predators such as lions who love to lay in them or hide in ambush as they wait for a possible prey to pass through. There is such a high possibility of meeting African lions in these places, that there is a group of these rocks called simba kopjes (lion kopjes).
Continuing northwards, we will arrive at the section traversed by the Seronera, Ngare Nanyuki, Nyabogati, and Orangi rivers, all tributaries of river Grumeti, which flows westwards. This is a focal and most crowded part of the park, due to the presence of several lodges and campsites, as well as the Seronera Visitor Centre, where you can get informative material about the park and watch projections of its wildlife.
Several trails wind along the rivers from here, from where you can see crocodiles, hippos and many other animals that come to drink, as well as leopards that often bask in the branches of umbrella acacias found along the river banks.
To the west of the Seronera lies the Western Corridor, a kind of 40 km long funnel that opens up to Lake Victoria. Further north, we find River Grumeti, famous for its fords, which, in the months of June and July are crossed by the great migration of millions of herbivores moving north, with crocodiles along the banks waiting for a hearty meal.
These months are certainly the best for visiting the Western Corridor, although it is also inhabited by resident animals throughout the year. The northern part of the Serengeti Park is characterized by hills covered by different species of acacias that extend to the border with Kenya and the adjacent Maasai Mara Park, where the migrating animals gather during the months of September to November, before returning to the south and the plains of the southern Serengeti.
Photos of Serengeti Park
Discover our Itineraries that comprise the Serengeti Park Serengeti