Safaris in Tanzania by Safari Avventura
Start discovering the wonders of Tanzania by entrusting yourself to a Tour Operator specialized in Safari in Tanzania, which organizes tours in Tanzania with a professional European and Tanzanian management team, as well as plan out your holidays to make them pleasant and unforgettable. We are the only place to book the best safaris in Tanzania. Get started now to begin exploring our different destinations and itineraries!

Experience a safari in Tanzania
We are a local Tour Operator specializing in safaris in Tanzania that will bring you to discover these magical and enchanting lands. We will charm you with the endless horizon of the Savannah, the great reserves, animals, northern and southern parks, postcard-like sunsets, primordial Africa; home to ancient tribes, and white beaches overlooking the beautiful sea in the Zanzibar archipelago. Safari Avventura offers you unforgettable photographic safaris in Tanzania, where you can enjoy truly poignant experiences, thanks to our experienced local guides.
Leave now for a safari choosing from one of our many tours in Tanzania, itineraries made especially for you. Choose based on the type of trip and the parks you want to visit. You can also choose the sea extension, to push you to Zanzibar!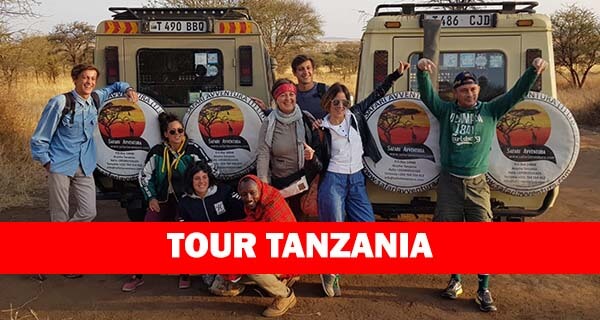 We have reserved some offers for you to leave immediately for Tanzania without thinking twice. Take advantage of our safaris on offer and go in groups at a lower price. An unforgettable journey awaits you!
Our mission is to make you experience an unforgettable adventure!
Discover Itineraries and Prices of tours in Tanzania:
For more information about our safari tours in Tanzania or for any assistance or advice on travel packages or itineraries you have purchased, please contact us by email and call us on the number below. We always reply within 24 hours.
Phone: +25 576 451 4412
E-mail: info@safariavventura.com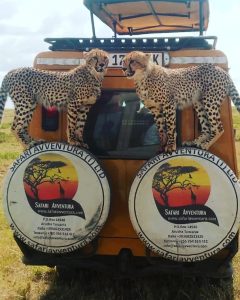 Our most popular safaris
Among the most beautiful and exciting parks to visit there is certainly the Serengeti National Park, an essential stop on almost all of our tours. Here you will find the 4 most booked itineraries that include a visit to the Serengeti, along with many other parks, such as that of Arusha and Tarangire.
The prices of a safari in Tanzania
All our different safari itineraries in Tanzania include numerous services which are all already included in the displayed prices. The only expense not included is that of air travel to reach Tanzania.
However, the cost of a safari trip to Tanzania can depend on many factors. The prices, in fact, of the itineraries in the Rift Valley range from 700 to 3000 €, based on the number of days you book and the type of lifestyle you want to maintain. So if you have wondered how much a tour in Tanzania costs , the answer is: "around € 300 per day".
With Safari Avventura payment is made following contact with our staff, with whom we will organize the trip, by bank transfer .
When to go on a tour in Tanzania?
Tanzania has a tropical climate . In the highlands, temperatures vary between 10 and 20 ° C during the cold and warm seasons respectively. The rest of the country has temperatures that rarely drop below 20 ° C. The warmest period runs from November to February (25-31 ° C), while the coldest period occurs between May and August (15-20 ° C). The climate is cool in the high mountain regions.
In the north of Tanzania and on the north coast, there are two rainy seasons , respectively October-December (called the small rains or Vuli) and March.
We operate with a Class "A" Tour Operator license No. 125319 issued by the Ministry of Tourism of Tanzania.
We are members of the Tanzania Association of Tour Operators (TATO).
We are members of the Tanzania Tourist Board
How to organize a safari in Tanzania:
To help you organize your trip to the beautiful lands of Tanzania, to experience an unforgettable safari tour, we have prepared a detailed guide you can read here. Below, however, we have reported a series of indications and advice that will allow you to experience the safari with more serenity.
If, on the other hand, you are interested in the parks of  Tanzania to visit, you can find them on this page.