Safaris are one of the most beautiful experiences you can live, and there is only one place you can go to live these memorable experiences: Africa. Safaris in Africa are in fact one of the most desired by those who love breathtaking landscapes and animals, as this land is home to some of the most beautiful parks, lakes and landscapes in the world, including an extraordinary diversity of animals.
There are hundreds of different places to go on safaris in Africa, from Kenya to Tanzania, and each gives travellers a unique adventure in close contact with nature and distant cultures. Experiencing and organizing a safari in Africa is however not an easy task. You need to know the prices, the costs of the tour operators and accommodation. You need to be able to choose the best itineraries and possibly be able to book low cost flights, so as to enjoy a perfect and cheap tour in Africa.
You will find all the information you need below! Happy reading.
1. Where to go: the best safari destinations in Africa
If your passion and love for animals have led you to decide on a tour in Africa, then the best places to go are definitely Kenya, Tanzania, Zambia, Botswana, Namibia and South Africa, where you can easily encounter the Big Five. Should you be interested in seeing gorillas and hiking in the wilderness, then you should be thinking Uganda, Rwanda and Kenya.
Should culture be your drive, then Mali, Burkina Faso and Ghana might be the most suitable destinations; otherwise, if you're trying to get off the beaten track, then try Cameroon and Gabon in Central Africa. And if your purpose to Africa is to meet distant cultures, then you might be interested in one of our many itineraries in Tanzania, where we offer you the opportunity to meet the Masai tribes.
Let's see in more detail where to go on tour in Africa.
Safari in East Africa:
Uganda, Kenya and Tanzania offer a particularly African type of safari; the roads, services and cultures are more authentic than in southern Africa. Getting to these magical places will be like taking a dive in the past, immersing yourself in native cultures with customs and traditions very distant from what you know.
Some of Africa's most famous national parks are located in this area, such as the Serengeti Park and the Ngorongoro Conservation Area, two of the most popular safari destinations in Tanzania. You can also visit Kenya's tropical African coast and the famous spice island of Zanzibar, which can also be visited with our Rhino itinerary.
Safaris in East Africa, especially in Tanzania, Zanzibar and Kenya, are the best ever, as they allow you to meet a large number of animals and see a variety of landscapes and breathtaking indescribable scenes.
South Africa safari:
Zambia, Botswana, Namibia and South Africa are more western and comfortable than East African countries, and tend to lack that "real Africa" atmosphere, that feeling of magic and adventure that can be felt in Tanzania or Kenya.
The most famous parks in this area are: Chobe, Etosha, South Luangwa, Delta and Kruger; the famous Namib Desert and Fish River Canyon near the Stellenbosch wine region. The South of Africa, however, offers a very different experience from East Africa, and it is preferable to go there for luxurious or very comfortable tours.
West African safari:
Mali, Burkina Faso and Ghana are great destinations if you're not too culture and wildlife oriented. Mali is famous for Djenné, Timbuktu and Dogan country; Burkina Faso is well known for its musical scene, and Ghana offers historical sites from ancient times, tropical beaches, and some game parks with very few animals.
Central Africa:
Cameroon and Gabon are great adventures for travellers. A safari through these countries will take you to an alternate universe of tropical beaches, pygmies, bush meat markets, surfing, hippos and thousands of lowland gorillas. This part of Africa is far less travelled by tourists on average, and it can be difficult to find an English speaking guide to accompany you on a tour through Africa in these parts.
2. Prices and costs of Safaris in Africa
Safari prices in Africa can vary greatly depending on many different factors. The cost of a trip to Africa depends on the lifestyle you intend to live, the duration of your stay, and the type of tour (a photo safari and an African holiday on the beaches of Zanzibar vary inn cost). The costs are generally around 200 € per day.
You can take a look at our itineraries in Tanzania to have an idea and check out the costs of a tour in Africa.
Luxurious safaris and tours in Africa
East, Southern and West Africa all offer 5-star hotels and luxury camping accommodation. A minimum of 3-5 star accommodation can be expected in Central Africa.
The facilities are excellent, offering well-stocked bars/restaurants, swimming pools, hot showers, toilets, as well as romantic African tourist cottages and colonial-style hotels.
Campsites here have changed tremendously over the years. Gone are the days when there were no turf for tents, cold showers (when public water supply was used), and hot drinks in fridges. Most campsites in the East and South Africa are very well served and equipped, boasting hot showers, drains, large bars and restaurants with good clean room accommodation (if the camp does not meet your nightly needs). There are of course a couple of drawbacks, but the campsites offer excellent value for money and all the comforts the average traveller could wish for.
3. Transport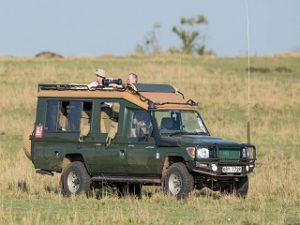 Africa has a wide range of transport options and costs. Depending on budget and personal needs, your choices range from an aircraft to a 4×4 Land Cruiser/Mini Van.
The most expensive, perhaps even the most practical, way for those with a large budget and no time to lose, is to fly from destination to destination. Most parks and major African tourist attractions have airstrips built to particularly meet tourists' satisfaction. The downsides of flying during a safari are the loss of local sites, sounds, smells and culture of a country.
Going for a 4×4 Land Cruiser or minivan is far more convenient than flying, and gives you a more authentic and indigenous experience.
The most economical options are trucks built and customised for safaris. Most safari truck tours are camp based, with the exception of a couple offering hotel/lodge accommodations. Travelling in a large safari truck gives you the best perspective for your experience in Africa. The vehicles are totally self-sufficient, complete with camping equipment and an extensive self-catering kitchen. Travelling in groups of 13-25 people in a communal living style is particularly popular among individual travellers or elderly couples looking for some extra security.
These safaris often combine animal watching and community projects with adventure activities, appealing to the 20-40 year old traveller. These tours are also becoming increasingly popular with other age groups, especially among the over-50s looking for a more adventurous travel experience. Nothing comes close to open fire cooking, shopping in local markets, and socializing with locals.
4. Individual or group safaris?
There are a number of tour operators offering custom-made private safaris. For an agreed price you can have your own vehicle, customized itinerary developed for your needs, and a private driver/guide, such as that provided through our staff. Options here are not limited to camping only, but it is for this very reason that they are so coveted. These options are popular for honeymoon couples and businessmen with limited time and tight schedules.
Group safaris can be very rewarding. There are itineraries developed to include the highlights of each region, and these are more economical than customized private safaris. The biggest concern with group tours is if all participants get along well. An African tour becomes more coveted in most cases where there is some fellowship in the group. Conversely, things go wrong when certain customers are sold a safari that does not meet their expectations.
5. Expectations and degree of participation
It is important to book a safari in Africa that meets your expectations. Africa is unique in that it adapts to all your personal and budget needs. It is crucial that you know what you want and what you are against, so you can go for a travel agency that provides that level of safari service.
Different safaris offer different levels of participation. The most expensive luxury safaris are those in 5-star hotels, which are very different from van safaris where clients are expected to assist in the day-to-day running of the safari.
In case you prefer to participate in the day-to-day management of the safari, you'll need to help cook and buy fresh food for the group, as well as book an Overland Truck Safari. Most companies offer a cook as service, thus limiting client participation to assisting in meal preparation, rather than taking responsibility for the final product. These safaris work on a client rotation system, so it could be that you only have to attend 3-5 times over a 3 week period; enough time to learn how to bargain for fresh fruits and vegetables in local markets, and how to cook over an open fire.
There are a couple of Overland Truck Safari operators where shopping and cooking are entirely the responsibility of the groups. This could be a great way to take full advantage of the Africa experience. Although rewarding, this could be quite stressful, especially if you've never cooked for 20 people before, let alone cooked over an open fire.
6. Duration
How long can you spend on a Safari? An itinerary with several stops over a short period of time may not be the best solution for a good safari in Africa. Consider asking the tour operator how much time you will spend in transit at certain locations.
Customers often compare routes from one company to another, choosing the company that offers a safari with more highlights, only to realize on the second day that it all translates into: breakfast at 5am every day and not arriving at your final destination by 8pm. This is to destroy the purpose of a holiday!
Be realistic about what is achievable. The safari industry is very competitive, so operators tend to increase their stops to make their product look more attractive and marketable to potential clients.
Recommendations:
Study the maps of the countries you are interested in visiting, Africa is a huge continent. Properly assess the condition of the roads, which are not up to Western standards. So don't expect to cover 500 km while stopping at different touristic attractions in a single day.
7. All Inclusive versus Pay-As-You-Go
Choosing an all-inclusive tour over pay-as-you-go has several advantages and disadvantages. All-inclusive bookings have an advantage in that you only have to pay for your visas and personal expenses. It has a disadvantage in that you could pay for activities that you do not have an interest in, such as walking in the forest or canoeing along the Zambezi.
Pay-as-you-go offers the flexibility to pay only for the activities you are interested in, resulting in better value for money. The downside is deciding before you start your safari which activities you wish and do not wish to participate in. It's always best to overestimate what you may do during the safari to make sure you don't run out of money.
8. Brochures and Online bookings
There has been a tendency over the last 2-3 years to subscribe to brochures, as people are increasingly confident about booking excursions on the internet. Moreover, we as a company are conscious of wasting valuable resources such as paper. Most websites (like ours) have detailed information about safaris, eliminating the need to evaluate a booklet.
9. Ask the right questions
Before booking an african safari first ask yourself (and be honest) the following question: what kind of safari would I like to have? Next:
Where do I want to go?
What do I want to see and experience?
How long do I intend to stay?
What do I expect?
Do I want a private or group safari?
How much do I want to spend?
Do I want an all-inclusive or pay-as-you-go package?
What type of transportation do I want?
Once you have asked yourself these questions and answered them honestly, you can then start looking for a suitable operator to meet your expectations. Personally, we recommend our team, Safari Avventura, a tour operator specializing in safaris in Tanzania and Zanzibar that offers you an incredible number of different itineraries of great quality.
Which is the best safari in Africa?
To live an unforgettable tour and to be able to book the best safari in Africa, you will need to search among the tours in Tanzania that we at Safari Avventura make available to our clients. Tanzania is in fact the most beautiful safari destination there is, both in terms of the landscapes and animal biodiversity, including the number of animals you can come across.
That's why the best safari in Africa is one of our many itineraries. Some of our best itineraries are: the Cheetah Safari, which is our bestseller, the Rhino Safari, which also includes a trip to Zanzibar and the seaside resorts of Tanzania, and finally the Kudu Safari, an unforgettable 11-day trip in Africa. You can also take a look at our offers, where you will find promotions and incredible discounts for tours and memorable safaris.