SAFARI GRAY CROWNED CRANE – 5 Days
5-day safari to admire the beauties of Northern Tanzania.
You will get to see the animals of the savannah up close, and take pictures of Tanzania's beautiful scenery, with Safari Avventura. All this with the assistance of an Arusha-based tour operator, full board, personal guide, private use of jeep (with power outlets, fridge with refreshments and snacks, binoculars) and select accommodation.
So then, are you ready to take off?
Destinations: Tarangire, Manyara, Ngorongoro and Masai village
Meals: Packed lunch/picnic, dinner and breakfast at the Lodge.
Safari type: Small group safari from 2 to 7 people.
PRICING
STARTING AT 1.150 DOLLARS
THE COST INCLUDES:
Use of private jeep
Accommodation at the lodge
Admission and activities in the parks
Professional guide (fluent in Italian and English)
Full board during the safari
AMREF
THIS OFFER INCLUDES:
The transfers mentioned in the program, by private jeep
Overnight accommodation at select lodges
Admission and activities in the parks
Professional guide
Full board during the safari
IT DOES NOT INCLUDE:
ADDITIONAL SERVICES:
Savannah Bike Tour
Nature walk in the forest
Nature walk to Lake Duluti
Balloon Safari
Horseback riding (Arusha)
Information:
For more information about our tours or for assistance or advice on tour packages purchased, contact us through the details below. We usually respond to all inquiries within 24 working hours.
Phone: +39 380 253 1425
E-mail: info@safariavventura.com
FULL ITINERARY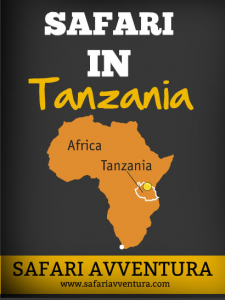 Day 1 – Kilimanjaro Airport and departure for Arusha
Once you land at Kilimanjaro Airport, our guide will be ready to welcome and take you to your accommodation at the Songota Lodge in Arusha. Should you have the time, desire and energy, you can take a tour of the city, accompanied by a guide. Or, you can relax in your hotel.
Dinner and overnight accommodation at the lodge

Day 2 – Tarangire Park
In the Tarangire National Park, the swaying savannah of the Tarangire River, dotted with majestic baobabs, many of which date back more than 2000 years, is home to the largest elephant population in northern Tanzania. And it is absolutely breathtaking to watch the animals when the dust blows over the dry plains. The park plays host to the highest density of wildlife on the continent at the height of the dry season.
Packed lunch will be served in the park. Dinner and overnight accommodation at the Lodge

Day 3 – Manyara Park
The safari continues on the third day with a tour of Lake Manyara National Park, one of Tanzania's most biodiverse parks. On an area of only 330 square kilometres, 230 of which are occupied by a lake, the park is home to five different ecosystems. Over 380 types of birds and a large number of animal species live in the park, including elephants, buffaloes, zebras, giraffes, leopards, lions, baboons, hippos, antelopes, warthogs and many more.
Packed lunch will be served at the park. Dinner and overnight accommodation at the Lodge

Day 4 – Ngorongoro Crater
After breakfast, we will head to the Ngorongoro Conservation Area, one of the most famous safari sites in the world, declared a UNESCO World Heritage Site in 1978 and an International Biosphere Reserve in 1981. Ngorongoro Crater, its main attraction, is located at 2,200 meters above sea level, measures over 16 kilometres in diameter and occupies a total area of about 265 square kilometres. These dimensions make Ngorongoro the largest uninterrupted caldera in the world and one of Africa's natural wonders with a population of about 30,000 large mammals living in it all year round, such as buffaloes, lions, elephants, cheetahs and rhinoceroses, along with a large variety of birds, such as flamingos, eagles, buzzards, ostriches and hawks. The centre of the crater is occupied by Lake Magadi, with shallow waters that almost dry up during the dry season, and is the best spot for watching flocks of flamingos and crowned cranes, or even several herbivores, especially the large numbers of wildebeests and zebras who drink here, attracting the presence of lions and hyenas. We will also visit the Masai Village inside the Ngorongoro Conservation Area during the day, which will certainly be a fascinating experience. We will then return to Arusha in the evening.
Packed lunch will be served at the park.
Dinner and overnight accommodation at the Lodge

Day 5 – Trip to Arusha and return to home
The last day of the safari will also be well organized, allowing you to have a nice breakfast and, if possible, a tour of the city, to spend one last time shopping and buying souvenirs for friends and family before leaving. After that, you will be driven to the airport to return to home, or you can continue your holiday to a seaside destination, with a heart full of beautiful experiences you will cherish forever.